They Both Die at the End by Adam Silvera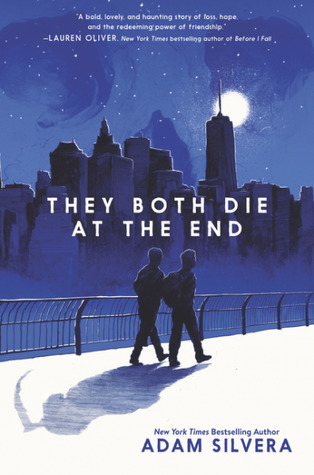 Synopsis:
On September 5, a little after midnight, Death-Cast calls Mateo Torrez and Rufus Emeterio to give them some bad news: They're going to die today.
Mateo and Rufus are total strangers, but, for different reasons, they're both looking to make a new friend on their End Day. The good news: There's an app for that. It's called the Last Friend, and through it, Rufus and Mateo are about to meet up for one last great adventure—to live a lifetime in a single day.
---
~SPOILER ALERT~
---
Right off the bat, this phone call is horrifying. First she had the nerve to get Mateo's name wrong and she's like "go online to tell us what you want on your gravestone." Bitch, what??
I knew that I would love this book if not just for the diversity in characters but I really fucking loved it!!
I love Mateo. He's awkward and quiet but loving and loyal. While he and Rufus are painted to be opposites, they are still so similar and perfect together.
The fact that Mateo walked in on his own grave being dug was so fucked up. Seriously that is so fucking insensitive.
I love that there are other characters sprinkled in and that all of it is somehow connected. I love it.
I have to admit that Deidre's story about Life Cast actually sounded pretty interesting and if Adam Silvera decide to write that book, I would definitely buy it.
I was so happy that Lidia and the Plutos were with Rufus and Mateo at the same time. I was also so afraid that Peck was really going to get to them. Ugh what a bitch.
I hate that they had such a perfect moment together and that Mateo died trying to do something nice. Ugh that part killed me. I had totally forgotten about the stove until the end of that chapter.
I'm kind of pissed that Rufus died being reckless. Headphones in and looking at his phone. I mean yeah Mateo was the last thing he saw, his voice was the last thing he heard but damnit. He hadn't even reached his happy place yet and it was right there. Also, it is so fucking ironic that Victor kills Rufus when he's the one that called him to tell him that he was going to die. Ugh that pissed me off!
Even though I love this book and it is a fantastic stand alone, I have so many questions:
Does Mateo's dad ever wake up?
How does Death-Cast know when someone will die?
Why was Death-Cast created? Was it supposed to make dying easier?
Can people die unexpectedly?
How did Delilah die?
Ugh I need to know.
5 stars.
---
Like Bookmark Chronicles on Facebook and follow me on Twitter and Instagram! If you can, consider buying me a Ko-fi!