Every Day by David Levithan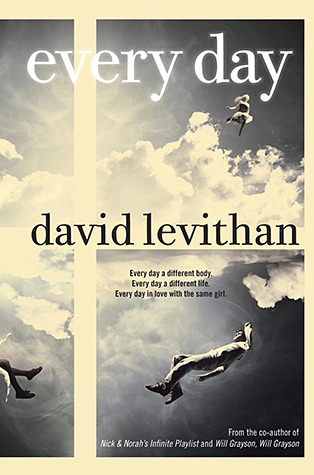 Synopsis:
Every day a different body. Every day a different life. Every day in love with the same girl.
There's never any warning about where it will be or who it will be. A has made peace with that, even established guidelines by which to live: Never get too attached. Avoid being noticed. Do not interfere.
It's all fine until the morning that A wakes up in the body of Justin and meets Justin's girlfriend, Rhiannon. From that moment, the rules by which A has been living no longer apply. Because finally A has found someone A wants to be with—day in, day out, day after day.
---
~SPOILER ALERT~
---
*This is actually a reread for me so I took my old review and updated it*
One thing that I love about this book is that there are so many different characters but in a way that isn't overkill. Given the plot it makes sense ya know?
I remember in my first review I used they/them pronouns for A because I wasn't sure of how they identified. However, in the forward of Six Earlier Days, David Levithan uses he/him so I guess A is a boy.
Y'all know I hate insta love, and I feel like that's what happened with A and Rhiannon. In a way he's kind of obsessed with her, and is willing to disrupt other people's lives for her even though he knows it's wrong.
I also don't get why Rhiannon didn't just break up with Justin when she admitted that there was nothing there. Why? Just why? I don't get it and it's so frustrating to see that happen so often.
I did like when A was in the twins' bodies back to back, that was kinda cool because he sort of got to see what happened afterward.
I completely forgot that he would wake up in Rhiannon's body. Such a great twist.
One of the things that I really love about A is that he do not discriminate and he's so open minded which, honestly, is really rare. On the other hand, Rhiannon's judgement made me dislike her a bit. Honestly, I kind of hated her the first time I read it. This time, not as much but I just hate how much she relied on Justin because he's absolute trash.
I also forgot about all of the stuff with Nathan and Reverend Poole. I wonder how much Nathan will be in the next book. I know that Reverend Poole has to be right? Because A wants to be in just one body?
I wonder how Poole is able to stay in one body and what has happened to the real Poole.
I think it was kind of weird but also sweet that A set Rhiannon up with Alexander. I wonder if they will be together in the next one.
One thing that I love about this book is that it addresses a few things like addiction, depression, sexuality, gender identity, and religion. That's a lot for just one book.
On the other hand, something that bothered me is the way he described Ashley. There is a fair amount of diversity in this book so why is it so hard to address black characters properly? Or just the one in this case (I think). First she's the "super hot Black girl" and then the "Black bitch' which makes me think Justin is racist. I just don't understand why this only happened with her when there are other minority characters.
I also still have  A LOT of questions: Where are A's parents? Why is he like this? What would happen if his host died? Did he ever have a body of his own?
I guess I'll find out soon.
4 stars.
---
Like Bookmark Chronicles on Facebook and follow me on Twitter and Instagram! If you can, consider buying me a Ko-fi!