Scarlet by Marissa Meyer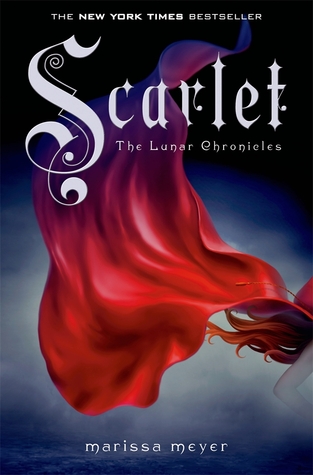 ---
Synopsis:
Cinder, the cyborg mechanic, returns in the second thrilling installment of the bestselling Lunar Chronicles. She's trying to break out of prison—even though if she succeeds, she'll be the Commonwealth's most wanted fugitive.
Halfway around the world, Scarlet Benoit's grandmother is missing. When Scarlet encounters Wolf, a street fighter who may have information as to her grandmother's whereabouts, she is loath to trust this stranger, but is inexplicably drawn to him, and he to her. As Scarlet and Wolf unravel one mystery, they encounter another when they meet Cinder. Now, all of them must stay one step ahead of the vicious Lunar Queen Levana, who will do anything for the handsome Prince Kai to become her husband, her king, her prisoner.
---
~SPOILER ALERT~
---
One of the first things that I noticed in this novel is that the way cyborgs and Lunars are discussed is incredibly similar to how a lot of minoritized are treated. It's foul. Especially with what just happened this past week, I couldn't help but think about that.
There was also a lot of sexism in some of the scenes in Reiux and it was really annoying.
The single thing that probably pissed me off the most in this entire book is Ran threatening to rape Scarlet. As much as I appreciate when "tough" topics are put in books, especially YA, I've come to realize that a lot of authors tend to use it as a trend and I don't think that's the way to do it. This is a fairytale retelling about cyborgs and spaceships, rape threats are not something that you would expect in a story like this and it could have been triggering for someone else.
I know this review is starting off a little heavy but I have to point stuff like this out, I'm not just going to ignore it.
As for the rest of the story, most of it was good. I like that we go back and forth between Scarlet and Cinder but I have to admit that the parts with Cinder and Thorne were a little boring to me. I appreciated Scarlet's side of the story much more.
I'm not a huge fan of Thorne. I don't particularly have any feelings toward his character, he's kind of just there.
I do really like Scarlet though. I do like the idea of her and Wolf together and even though it isn't exactly insta-love, they have only known each other for a week so… I guess we'll see how that goes.
For some reason, I did not realize that Scarlet's grandmother was the one that helped Cinder escape. I feel like the name Benoit was definitely mentioned at the end of Cinder but I just didn't remember it.
I really like that there was a chapter that followed Levana. I know that we'll get more of that in Fairest but I'm curious. I want to know the deal with the ring and all the other stuff that goes on in her head.
So far, I like that both stories had different settings. I like that she put a lot of research into setting the scene and I'm excited to see more of that.
I still think that some of the chapters end in strange places. It's gotten better since the last book but I still find it a little weird.
Overall, it was pretty good though. 3.5 stars.
---