The Seven Husbands of Evelyn Hugo by Taylor Jenkins Reid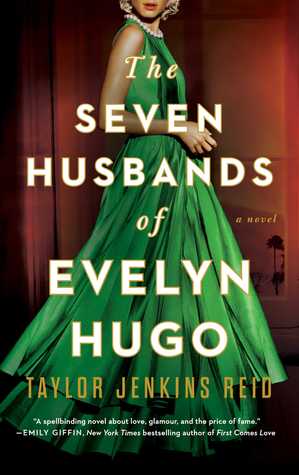 Synopsis:
Aging and reclusive Hollywood movie icon Evelyn Hugo is finally ready to tell the truth about her glamorous and scandalous life. But when she chooses unknown magazine reporter Monique Grant for the job, no one is more astounded than Monique herself. Why her? Why now?
Monique is not exactly on top of the world. Her husband has left her, and her professional life is going nowhere. Regardless of why Evelyn has selected her to write her biography, Monique is determined to use this opportunity to jumpstart her career.
Summoned to Evelyn's luxurious apartment, Monique listens in fascination as the actress tells her story. From making her way to Los Angeles in the 1950s to her decision to leave show business in the '80s, and, of course, the seven husbands along the way, Evelyn unspools a tale of ruthless ambition, unexpected friendship, and a great forbidden love. Monique begins to feel a very real connection to the legendary star, but as Evelyn's story near its conclusion, it becomes clear that her life intersects with Monique's own in tragic and irreversible ways.
Written with Reid's signature talent for creating "complex, likable characters" (Real Simple), this is a mesmerizing journey through the splendor of old Hollywood into the harsh realities of the present day as two women struggle with what it means—and what it costs—to face the truth.
---
~SPOILER ALERT~
---
I love Evelyn. She's amazing. I knew from the beginning what she was planning but I feel like it was really obvious. The fact that they referenced the assisted suicide piece and she said that everyone that she had ever loved was gone, it made sense. Plus, she was already dying.
Even though it may have seemed selfish, I appreciate the fact that she always protected herself first. She had a rough life, she's had to fight for everything. Not just as a woman in Hollywood, but also as a woman of color. People are still somehow operating under the assumption that women are supposed to make sacrifices for others, constantly be selfless and quite frankly that's bullshit. Like when Don tried to make her end her career, not because he wanted a family, but because she was a bigger star than he was.
All of that is a part of the reason that I hate Celia. She's a white woman who comes from money and is constantly trying to control Evelyn. She's also a fucking bitch. She's emotionally abusive and thinks that she's right about everything even when she's clearly wrong. I wanted to like her because Evelyn loved her but I can't. Celia makes everything about her. I can understand that she was upset when Evelyn slept with Mick. I get that. But the fact that she left Evelyn because she filmed a fake love scene with Don was over the fucking top.
Harry on the other hand was Evelyn's true soulmate and I loved him. He was a true friend and I was pissed when he died. I also really felt bad for him when John died. It took me a while to realize the connection between Evelyn and Monique. To be honest, a lot of times I forgot that Monique was even there and that Evelyn was telling her story through flashbacks. I get that this story line makes the story even messier but I think that Evelyn did the right thing.
While I appreciate the diversity in this story there were just a few things that bothered me. Little things like this quote, "I know it's not natural – hair that blond on skin that bronze -…" For some reason people seem to think that white people have a monopoly on blond hair. They don't. There are many people of color who are born with blond and even red hair, so remember that going forward. Also, while it's may not be her natural hair color, I'm sure we all know what Beyonce looks like and her hair is blond most of the time.
I have to admit that I found it unrealistic in the book that she didn't face any racism, especially given the time. She was a Cuban woman with fairly tan skin. Sure there was the whole, "but you're Mexican" thing but I feel like only ever including that one instance is kind of an insult to the struggles that women of color face every single day.
Here's another quote that I think is really important, "I'm bisexual. Don't ignore half of me so you can fit me into a box…don't do that." This was another part of the reason that I hated Celia so much. She refused to accept that Evelyn could love men and still love her and it was really annoying. I guess I also appreciated this quote because it made Monique take a step back and realize that as a biracial woman she has sort of faced the same issue as Evelyn. That's incredibly important in terms of feminism and intersectionality. So with that said, it kind of pissed me off even more that Reid just made it seem like racism doesn't exist, especially during the time period.
Overall, it was pretty good. However, Taylor Jenkins Reid could have done a bit more research and been historically accurate and that's the reason that I'm not giving this the full 5 stars that it should have had.
4.75 stars.
---
Like Bookmark Chronicles on Facebook and follow me on Twitter and Instagram! If you can, consider buying me a Ko-fi!