Of Fire and Stars by Audrey Coulthurst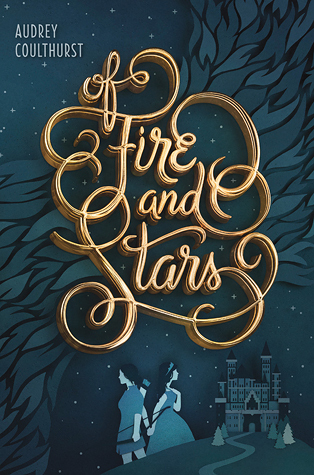 Synopsis:
Betrothed since childhood to the prince of Mynaria, Princess Dennaleia has always known what her future holds. Her marriage will seal the alliance between Mynaria and her homeland, protecting her people from other hostile lands. But Denna has a secret. She possesses an Affinity for fire—a dangerous gift for the future queen of a kingdom where magic is forbidden.
Now, Denna must learn the ways of her new home while trying to hide her growing magic. To make matters worse, she must learn to ride Mynaria's formidable warhorses—and her teacher is the person who intimidates her most, the prickly and unconventional Princess Amaranthine—called Mare—the sister of her betrothed.
When a shocking assassination leaves the kingdom reeling, Mare and Denna reluctantly join forces to search for the culprit. As the two become closer, Mare is surprised by Denna's intelligence and bravery, while Denna is drawn to Mare's independent streak. And soon their friendship is threatening to blossom into something more.
But with dangerous conflict brewing that makes the alliance more important than ever, acting on their feelings could be deadly. Forced to choose between their duty and their hearts, Mare and Denna must find a way to save their kingdoms—and each other.
---
Typically I don't read parts of a series without having all of them but with my recent mission to find more f/f romance, this book was suggested and as soon I'd finished reading the synopsis I knew I had to get it.
I mean, fire-bending princess in a kingdom where magic is forbidden and she falls in love with her future husbands sister?? Yes, please!
Oh and if you're interested, the sequel – Of Ice and Shadows – is scheduled to be released on August 13th!
---
~SPOILER ALERT~
---
Let me just go ahead and say fuck yes to this entire book!
I love Denna. The one thing about her that annoys me is how she cares so much about what other people think. I get it, she wants to make a good impression and be a good queen and all that but live your life girl damn. Can we talk about how badass she is? This bitch can bend earth, air, and fire.
I love Mare. She's definitely free-spirited, and strong and fierce. She's also got her soft moments and I love that because I'm tired of people making it seem like women can't be strong and have emotions. I also really liked her relationship with Nils, I hate that he died in front of her.
I enjoyed the romance between these two. It was far from instalove and while neither of them expected it, you got to see how it grew for each of them. And there was never a big deal made about loving another woman it was always about the fact the Denna was already engaged and that there was an alliance on the line. It's so nice to see that because I feel like it's so rare. Denna didn't flinch when she learned about Ellaeni's lover, Nils was supportive when Mare told him about Denna. That almost never happens because for some reason people think making someone freak out about someone else's sexuality is okay. Spoiler: It's not.
I loved Cas, so pissed he died too. I was really hoping that he would help Denna on her journey to become queen, maybe even help her and Mare be together. Can't always get what we want I guess.
I hate Thandi with a passion. Not only is pretty fucking dumb, he treats Denna like it's impossible for her to actually help the Directorate when she's smarter than him. I'm glad he came to his senses at the end but ugh.
Thank goodness Lord Kriantz is dead. I knew he killed the king. At first I thought it might have been Hilara but he was always around when strange things happened.
I'm interested to find out how much we'll see of Thandi, Captain Ryka, and hopefully Ellaeni in the sequel or if we'll only have Mare and Denna. Either is fine by me.
I've always loved dual perspectives and I think that this was well done. There was never a moment when I was bored.
I'm excited to see Denna's training, how Havemont reacts to thinking their princess has been killed and all of the craziness that could come from that.
5 stars.
---
Like Bookmark Chronicles on Facebook and follow me on Twitter and Instagram! If you can, consider buying me a Ko-fi!