A Spark of Light by Jodi Picoult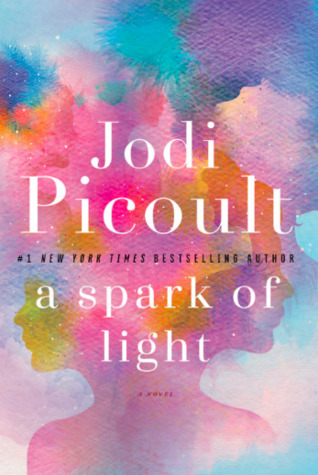 *I want to note that while this review will contain spoilers, I will be posting a separate discussion post to have a conversation about abortions, reproductive rights, pro-life vs pro-choice etc.*
Synopsis:
The warm fall day starts like any other at the Center—a women's reproductive health services clinic—its staff offering care to anyone who passes through its doors. Then, in late morning, a desperate and distraught gunman bursts in and opens fire, taking all inside hostage.
After rushing to the scene, Hugh McElroy, a police hostage negotiator, sets up a perimeter and begins making a plan to communicate with the gunman. As his phone vibrates with incoming text messages he glances at it and, to his horror, finds out that his fifteen-year-old daughter, Wren, is inside the clinic.
But Wren is not alone. She will share the next and tensest few hours of her young life with a cast of unforgettable characters: A nurse who calms her own panic in order save the life of a wounded woman. A doctor who does his work not in spite of his faith but because of it, and who will find that faith tested as never before. A pro-life protester disguised as a patient, who now stands in the cross hairs of the same rage she herself has felt. A young woman who has come to terminate her pregnancy. And the disturbed individual himself, vowing to be heard.
Told in a daring and enthralling narrative structure that counts backward through the hours of the standoff, this is a story that traces its way back to what brought each of these very different individuals to the same place on this fateful day.
---
~SPOILER ALERT~
---
Let's go through the characters:
I like Wren. It's nice to actually read about a teenage character that I can find relatable. I think it's good that she's trying to be responsible by having a conversation about sex and going to get birth control. THIS DOESN'T HAPPEN OFTEN WITH TEENAGERS! I will save more of my opinion on that for my discussion piece.
I never liked Janine. All of the stuff she's spewing about why she's "pro-life" I can't get behind. Again, more of that later but I will say that I believe she's a hypocrite since she herself had an abortion. Of course I agree with her reason for doing so. But you don't get excuse yourself from the rules that you try to force on other people. And fuck her for comparing abortion to slavery.
I like Joy. I hate that she was messing around with a married man though. If I'm not mistaken though that same man is the judge that was supposed to oversee Beth's case, right?
I feel really bad for Beth. She's young and confused. I think her choices were stupid but I also still feel for her. I wish we knew what was going to happen to her. By the sound of it though, I guess she's going to jail which I think is ridiculous.
I find it incredibly ironic that George says that only God can give life and death but then goes to murder a bunch of people. And all because he didn't like a decision that someone else made and he took it out on the wrong people anyway.
I was under the impression that Izzy was working at the clinic. I was so shocked to learn that she was getting an abortion. I wonder if she still went through with it. I also love how fierce she is. Probably my favorite character.
I knew that Olive had cancer. I hate that she died and she never even told Peg that she was sick.
Bex. Love her, I loved how great she is with Wren. Of course, leave it to Jodi to throw me for a fucking loop. I would have never guessed that Bex was Hugh's mother yet it all makes so much sense.
I feel like the ending was inevitable. George had to die. And it's so stupid because now your daughter who you claim to love so much, has no one.
Of course, I have so many more thoughts, but like I said, I will post a discussion post soon.
Stay tuned.
5 stars.
---
Like Bookmark Chronicles on Facebook and follow me on Twitter and Instagram! If you can, consider buying me a Ko-fi!