When Dimple Met Rishi by Sandhya Menon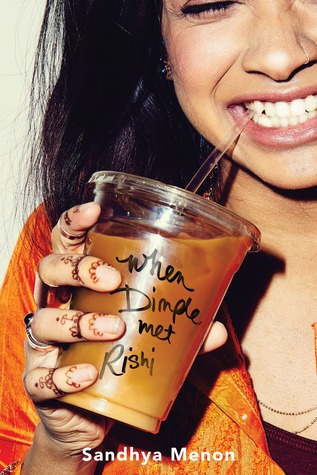 Synopsis:
Dimple Shah has it all figured out. With graduation behind her, she's more than ready for a break from her family, from Mamma's inexplicable obsession with her finding the "Ideal Indian Husband." Ugh. Dimple knows they must respect her principles on some level, though. If they truly believed she needed a husband right now, they wouldn't have paid for her to attend a summer program for aspiring web developers…right?
Rishi Patel is a hopeless romantic. So when his parents tell him that his future wife will be attending the same summer program as him—wherein he'll have to woo her—he's totally on board. Because as silly as it sounds to most people in his life, Rishi wants to be arranged, believes in the power of tradition, stability, and being a part of something much bigger than himself.
The Shahs and Patels didn't mean to start turning the wheels on this "suggested arrangement" so early in their children's lives, but when they noticed them both gravitate toward the same summer program, they figured, Why not?
Dimple and Rishi may think they have each other figured out. But when opposites clash, love works hard to prove itself in the most unexpected ways.
---
~SPOILER ALERT~
---
First of all let me say that it is so nice to read something by an Indian author. There are not a lot in YA and it is so needed. I loved the glimpse into the culture, the language, the family dynamics. I so appreciate all of it.
I have to admit though that I did not like Rishi at first. He was rude and arrogant and I didn't like the way he talked about Dimple. Like, how dare a woman know what she wants and be fierce instead of a delicate little flower all the time.
I also was really rooting for this book until it went with the whole "nerdy girl wears a dress for the first time and discovers that she's attractive" and " girl doesn't know that she's beautiful until a boy tells her she is" trope. Like I can understand that girls with glasses are always made fun of (I know because I am one) but shit we're still cute!
Another thing is that while I would have enjoyed the progression of their relationship, it was instalove. I hate instalove. 3 weeks is not a long enough time to fall in love with someone. Not sorry. Yes you can develop feelings. Yes you can care deeply for them. But no,  you cannot fall in love.
Aside from that, I do really like their relationship. A lot of times YA authors will romanticize abuse and make it seem like love (looking at you Stephanie Meyer and Sarah Dessen) and it's nice to see a genuine relationship. The way that they support each other and even though they went behind each others backs they were really doing it to help the other reach their dreams. The way that Rishi wanted to talk about sex and make sure that Dimple really knew that that was what she wanted. Little things that seem like they are requirements of healthy relationships (because they are) but are so often dismissed and absent.
To be honest, I thought that Dimple was an idiot for breaking up with Rishi because she didn't have a good reason. Her main reason was that he was "too right for her." Which is the dumbest fucking thing that I have ever heard. It implies that 1. She doesn't believe she deserves a good relationship and 2. that she is willing to settle. Nope, fuck that.
Anyway, I'm glad that it ended the way that it did and that it was a good outcome for everyone involved.
3 stars.
---
Like Bookmark Chronicles on Facebook and follow me on Twitter and Instagram! If you can, consider buying me a Ko-fi!