Crooked Kingdom by Leigh Bardugo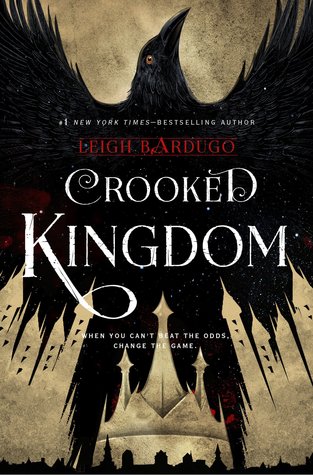 Synopsis:
Kaz Brekker and his crew have just pulled off a heist so daring even they didn't think they'd survive. But instead of divvying up a fat reward, they're right back to fighting for their lives. Double-crossed and badly weakened, the crew is low on resources, allies, and hope. As powerful forces from around the world descend on Ketterdam to root out the secrets of the dangerous drug known as jurda parem, old rivals and new enemies emerge to challenge Kaz's cunning and test the team's fragile loyalties. A war will be waged on the city's dark and twisting streets—a battle for revenge and redemption that will decide the fate of the Grisha world.
---
~SPOILER ALERT~
---
I've been listening to these on audiobook and the one thing that I don't like is that some of the voice actors will pronounce words differently. Otherwise I like it for the most part. This is the 4th time that I've listen to a book with multiple perspective but the first time with more than 3 characters. Otherwise, I definitely recommend audiobook although they appear to only be on Audible.
The one thing that I hated about this duology is that the first chapter of each book was from the perspective of a person that we see one time and then they disappear and I'm left with questions. What happened to Anya after they gave her parem? She told the guards to wait, most of them died and she disappeared. Then what?
And what about Retvenko? He was kidnapped by the Shu man with wings but where was he taken?
Also, the Shu with wings. What are they, where did they come from, do they get their powers from parem? This may have been answered somewhere in the book when I started to zone out a little. I'm not sure.
Anyway, I'm glad the crew managed to save Inej. She is seriously my favorite.
I was wondering if we were going to meet Zoya so while I'm glad that she showed up, she's kind of a bitch.
I was not expecting Wylan's mother to be alive. That was a huge shock but at the same time I'm glad that he found her again and has one decent parent. And I'm so glad he and Jesper are finally together. Goodness, the tension between the two of them has been building forever.
I also was surprised to find out that Pekka Rollins was working Jan Van Eck. Kaz was obviously a major player in the Dregs so I think it was stupid that they turned on him.
Oh and then Matthias freaking dies! Also unexpected. I have to admit that he I never really liked him even though his character did grow and all that. But, I was so sad because I love Nina and she was so heart broken. Even though I didn't like Matthias, I wanted them to have a future. I like that Inej said that he was a better man for loving her because I think that is very true.
In my personal opinion, Kaz has redeemed himself. He may not be able to be everything that Inej deserves but I'm so happy that she got her boat and her family. Ugh all the feels.
4 stars.
Side bar: Since I liked this series, should I read the Grisha Trilogy? Will it live up the my expectations? Let me know.
---
Like Bookmark Chronicles on Facebook and follow me on Twitter and Instagram! If you can, consider buying me a Ko-fi!