Six of Crows by Leigh Bardugo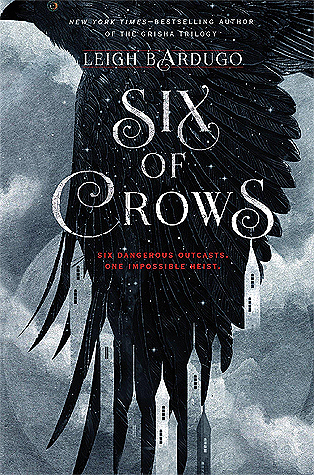 Synopsis:
Ketterdam: a bustling hub of international trade where anything can be had for the right price–and no one knows that better than criminal prodigy Kaz Brekker. Kaz is offered a chance at a deadly heist that could make him rich beyond his wildest dreams. But he can't pull it off alone…
A convict with a thirst for revenge.
A sharpshooter who can't walk away from a wager.
A runaway with a privileged past.
A spy known as the Wraith.
A Heartrender using her magic to survive the slums.
A thief with a gift for unlikely escapes.
Six dangerous outcasts. One impossible heist. Kaz's crew is the only thing that might stand between the world and destruction—if they don't kill each other first.
---
~SPOILER ALERT~
---
I am really kicking myself for waiting so long to read this. I really wasn't sure how I would feel about it but damn this was good.
I kind of like Kaz because he's not our typical antagonist but at the same time I dislike him because I love Inej. Sure he had a rough life and I do feel bad about that but it's not an excuse to keep treating her like and calling her an asset when he has feelings for her and he must know how she feels about him. Does she deserve more yes but I do like that they have so much trust between them.
Inej is such a badass boss bitch. We need more women like Inej in media of all forms. If she ends up killing Heleen that would be fantastic. I really hope that she gets to find her family in the next one. I wonder what they would say and how that interaction would go down. I also love her relationship with Jesper. They're so funny and great together. I hate that she got taken. Damnit Kaz!
I love Jesper but at the same time he annoys me. I'm kind of pissed that he is the reason they were attacked. I am very tempted to ship him and Wylan. I'm hoping that something happens between the two of them in the next book. I also hope he learns how to use his power more.
I really like Nina, I love her sass and attitude but she's also got a soft side. I also love her relationship with Inej and that as the only two women in the crew they aren't catty bitches. I really hope that she doesn't die. Ugh, what she did to save the crew was awesome though. I love that Jesper considered taking parem to help but then he would die and I don't want that either.
I don't have any strong feelings for Matthias. I hope he has learned his lesson about the way his people treat and talk about Grishas, and he must have with Nina but I don't particularly like him. Although, I am glad to know that he didn't actually betray Nina in the treasury.
I love the different powers that the Grishas have and the world building. I am also a sucker for multiple perspectives. I was really surprised to find out that jurda parem was created by accident and that Yul-bayur and his son are Grisha. I hope Kuwei has more of a role in the next book too.
I was also surprised to know that Kaz made a deal with Pekka Rollins instead of killing him though. It will be interesting to see how all of that plays out.
So I love the diversity in this book and that it's done well HOWEVER I was really annoyed by Matthias referring to Inej as "the bronze girl." Not okay.
Otherwise, I am so excited to read Crooked Kingdom.
Oh wait, wtf happened to Anya?!
4.75 stars.
---
Like Bookmark Chronicles on Facebook and follow me on Twitter and Instagram! If you can, consider buying me a Ko-fi!