Winter by Marissa Meyer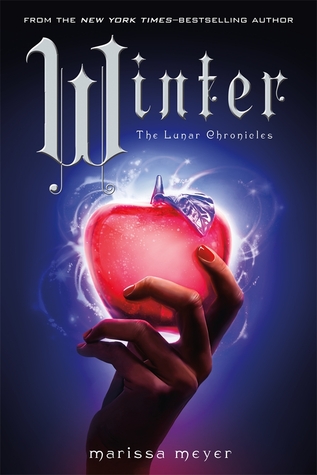 ---
Synopsis:
Princess Winter is admired by the Lunar people for her grace and kindness, and despite the scars that mark her face, her beauty is said to be even more breathtaking than that of her stepmother, Queen Levana.
Winter despises her stepmother, and knows Levana won't approve of her feelings for her childhood friend–the handsome palace guard, Jacin. But Winter isn't as weak as Levana believes her to be and she's been undermining her stepmother's wishes for years. Together with the cyborg mechanic, Cinder, and her allies, Winter might even have the power to launch a revolution and win a war that's been raging for far too long.
Can Cinder, Scarlet, Cress, and Winter defeat Levana and find their happily ever afters? Fans will not want to miss this thrilling conclusion to Marissa Meyer's national bestselling Lunar Chronicles series.
---
~SPOILER ALERT~
---
I'll start off by saying that I'm a little disappointed because I didn't feel like the novel focused on Winter enough. She's the title character, so I was hoping to spend a lot of time around just her and her back story. If anyone reads this series but doesn't get to Fairest, then they know nothing about her childhood, her parents, etc. I just feel like she didn't really get the recognition that the others characters got.
I'm also kind of upset that there was no real reunion between Cinder and Winter. It doesn't really matter for the sake of the story, but that was something that I was hoping would happen.
Another thing that really irritated me was the fact that Scarlet kept referring to Winter as "crazy." Not only because it's rude, but because she of all people should know better because she hated when people called her grandmother crazy. I feel like I started to dislike Scarlet once she got taken to Luna. Yes, she had been through a lot but she seemed sweet to me in her book and then became sort of a bitch.
Lastly, (in terms of disappointments) I hate that Cress is so worked up over Throne flirting with Iko or anyone who is not her. Until they finally had their conversation, Cress had no right to get all upset and flustered the way that she did. She wasn't willing to tell him how she felt and he had no obligation to her. She "fell in love" with a version of him that she created in her head and it turns out that person doesn't actually exist. I guess, I'm glad that they also got their "Happily Ever After" but that whole storyline irritated my soul and was one of the worst parts of this entire series.
Anyway, other than those things. It was good, but not as great as I was expecting. I dd still love the Snow White story line, and the revolution, and the drama. I love that Aimery was killed by Winter, I feel like Selene got revenge on Levana. I felt like that was good closure. I am slightly surprised (but I feel like its realistic) that Adri and Pearl are still incredibly selfish and greedy assholes. The fact that Adri thought that Cinder chose not to save Peony is ridiculous given the fact that Peony was the only family member that actually cared about Cinder. I guess, I just didn't want to believe that she was that stupid.
3 stars. A full series review will be posted shortly.
---