Cress by Marissa Meyer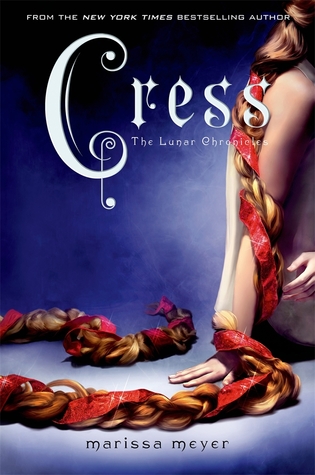 ---
Synopsis:
In this third book in the Lunar Chronicles, Cinder and Captain Thorne are fugitives on the run, now with Scarlet and Wolf in tow. Together, they're plotting to overthrow Queen Levana and her army.
Their best hope lies with Cress, a girl imprisoned on a satellite since childhood who's only ever had her netscreens as company. All that screen time has made Cress an excellent hacker. Unfortunately, she's just received orders from Levana to track down Cinder and her handsome accomplice.
When a daring rescue of Cress goes awry, the group is separated. Cress finally has her freedom, but it comes at a higher price. Meanwhile, Queen Levana will let nothing prevent her marriage to Emperor Kai. Cress, Scarlet, and Cinder may not have signed up to save the world, but they may be the only hope the world has.
---
~SPOILER ALERT~
---
So far, this is the largest book in the series but that is not why it took me so long to read. At the beginning I did not like Cress at all and reading her chapters had become painful for me.
I know that she hasn't had human interaction and she's awkward….none of that was the problem. Her obsession (yes, it was an obsession) with Thorne was not only creepy but unhealthy. It was weird and I hate insta love so "falling in love" before you meet someone is probably one of the worst tropes out there in my opinion.
The very first time that Cress's full name was mentioned, I knew that she was Dr. Erland's daughter. I did not at all expect him to catch letumosis but if you think about it, it does make sense. When he said good bye to Cress, I teared up a little! I was surprised to find out that he was the one to fuse human and wolf DNA together though.
I'm kind of sad that Wolf and Scarlet got separated. It's so sad that Wolf suddenly can't function without her. Kind of weird because they haven't known each other that long but still I feel so bad for him.
Speaking of Scarlet (not really), I'm glad that we got our first glimpse at Winter. I'm interested to see what role she plays in the rest of the series. I'm interested to see her relationship with Jacin, and I hope that she gets help. Her hallucinations are frightening. I wonder if they'll figure out how to replicate Lihn Garan's device that suppresses and the Lunar gift and maybe it helps her! Also, I don't truly believe that Jacin turned on Cinder. Seems like a trick.
I'm so glad that Iko has a (somewhat) lifelike body now. I love Iko. Fun fact: Iko has a spin off series! I absolutely will read that eventually. So far it seems like it will just be a duology and I'm all for it.
I've mentioned before that I feel like some of the chapters end abruptly. I feel the same way about the ending of the novel. Like, seriously Marissa. You're just gonna end on a cliff hanger like that? Really? Ugh
3.5 stars.
---