Clockwork Princess by Cassandra Clare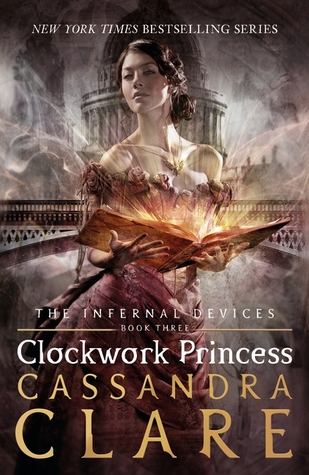 ---
Description:
Danger and betrayal, love and loss, secrets and enchantment are woven together in the breathtaking finale to the #1 New York Times bestselling Infernal Devices Trilogy, prequel to the internationally bestselling Mortal Instruments series.
THE INFERNAL DEVICES WILL NEVER STOP COMING
A net of shadows begins to tighten around the Shadowhunters of the London Institute. Mortmain plans to use his Infernal Devices, an army of pitiless automatons, to destroy the Shadowhunters. He needs only one last item to complete his plan: he needs Tessa Gray.
Charlotte Branwell, head of the London Institute, is desperate to find Mortmain before he strikes. But when Mortmain abducts Tessa, the boys who lay equal claim to her heart, Jem and Will, will do anything to save her. For though Tessa and Jem are now engaged, Will is as much in love with her as ever.
As those who love Tessa rally to rescue her from Mortmain's clutches, Tessa realizes that the only person who can save her is herself. But can a single girl, even one who can command the power of angels, face down an entire army?
Danger and betrayal, secrets and enchantment, and the tangled threads of love and loss intertwine as the Shadowhunters are pushed to the very brink of destruction in the breathtaking conclusion to the Infernal Devices trilogy.
---
~SPOILER ALERT~
---
Alright. Let's start with the fact that I have this book in hardcover. I always take the covers off while I read because they get in the way, so what do you know, there's a family tree in it! So going in I already knew some of my suspicions were correct. Like Will and Tessa would get married, as well as Sophie and Gideon. I also noticed that Jem didn't have a death date so that was interesting.
Will. I always wanted him with Tessa because he was the first love interest that was introduced and to me, his relationship with her made more sense. I'm glad that eventually they ended up together. One thing that I kind of had an issue with was the night that he and Tessa had in Cadair Idris. I get that they both thought 1. That Jem was dead and 2. That they were going to die soon. But it was kind of just like….you're gonna do this right now? Like, right now? Here? Oh okay, I guess this is happening. I just thought it was weird because what if Mortmain found them together? I guess I was the only person who thought that, but it was funny that Magnus found them.
I almost had a heart attack when Jem overheard Magnus say that Will was in love with Tessa, but he handled it so well. I knew it would come out eventually, but she set it up so it did seem like her would die without knowing. Also, I guess I'm okay with him becoming a Silent Brother. I didn't see it coming at all. I don't know how I feel about the ending. So do he and Tessa finally get married? Can/do they have children? I don't know.
I've been Team Sophie & Gideon from the beginning so I was so happy when he accidentally blurted out that he wanted to marry her. That was great. Gideon professing his love for her is the second best declaration of love (after Darcy and Lizzie of course).
I have 0 feelings toward Cecily and Gabriel. I feel like they're just there. I don't care about their relationship at all. Although, I'm glad that she didn't insta love them and that by the end of the book we still haven't seen much of their relationship but they're not getting married after like a month.
I hate the Consul. He's a sexist asshole and I'm glad he was beheaded and Charlotte took his place. That was harsh… but true…. I'm not sorry.
I felt so bad for Henry, but he took losing his legs well and it encouraged him to build more stuff. I wish I knew more about the baby.
I wanted better redemption for Jessamine. Sure, her ghost guards the Institute now but I wanted her to do something. I mean, her advice to Will I guess counts for something but…still.
I really don't know how I feel about the ending. Like I don't know if I'm satisfied with it. I'm guessing that the last line of people in the family tree will be the ones that Mortal Instruments are centered around? Will Jem and Tessa reappear in the series even though she left her family because she didn't want to watch them all die? I guess we'll see.
I gave this one a 4 out of 5 stars!
---
I think I'm going to read Almana by Julayn Adams next, after I redownload my kindle app!