Clockwork Angel by Cassandra Clare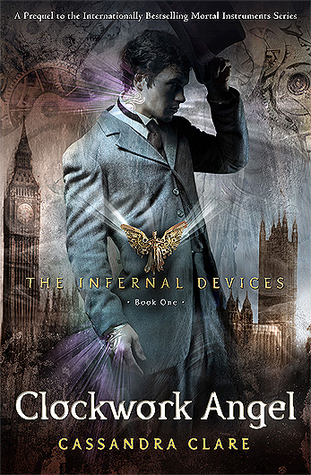 ---
Description:
In a time when Shadowhunters are barely winning the fight against the forces of darkness, one battle will change the course of history forever. Welcome to the Infernal Devices trilogy, a stunning and dangerous prequel to the New York Timesbestselling Mortal Instruments series.
The year is 1878. Tessa Gray descends into London's dark supernatural underworld in search of her missing brother. She soon discovers that her only allies are the demon-slaying Shadowhunters—including Will and Jem, the mysterious boys she is attracted to. Soon they find themselves up against the Pandemonium Club, a secret organization of vampires, demons, warlocks, and humans. Equipped with a magical army of unstoppable clockwork creatures, the Club is out to rule the British Empire, and only Tessa and her allies can stop them…
---
~SPOILER ALERT~
---
The very beginning was just a little slow, but as soon as the intro was over the action got really good really fast. I really appreciated that because the last book I read was really hard to get through.
This is slightly irrelevant but I also like that there are quotes at the beginning of each chapter.
I like that Tessa is a reader and that she's rewarded with books. Even though she was being held hostage, I did like that they at least did that. When Will rescues her and she doesn't want to leave her books, I would have felt the exact same way. On the other hand, she's kind of bitchy. I understand that she was kidnapped and all but that's not an excuse to assume that everyone who says that they will help you will go back on their word. It's one thing to be cautious, but another to be flat out ungrateful and disrespectful. I also don't like that she's super judgmental and always thinks of people in terms of attractiveness. I know that there is a reason for this but it annoys me that she thinks that women can't fight, have tattoos, or wear pants. I get it, but still. It's also slightly contradicting because there's a part about how she doesn't like when people talk down to her because she's a girl… I know that it makes sense for the time period but does no one have a mind of her own except Charlotte? I also don't like that she puts so much emphasis on the fact that Sophie is a servant. We know. She's still a person though. I also hated that she freaked out on Brother Enoch even though she knew that he was there to help and that he was capable of healing. Seriously, how about you thank him. Tessa still has some redeeming to do in the rest of the series to be honest. She's one of my least favorite characters at the moment.
Will. I love/hate him. I started off hating him, almost started to love him, but at the end he made me hate him again. I love how he cares for Jem, but I don't get why he's such a dick to everyone and why he's such a huge liar. At the same time I need to know what happened to his parents, why he keeps saying he lost everything, and why on Earth did he go see Magnus Bane. Way to end on a freaking cliff hanger.
I love Jem. You can't not like him. You're almost a terrible person if you don't. The poor kid is dying and addicted to demon poison to the point where he literally can't survive without it. Of course, he's like the best character in the story so far.
I absolutely adore Sophie! She's one of my favorites. It's so cute that she's in love with Jem (and that Thomas was in love with her). I hate that the reason she got her scar is from a guy thinking that was entitled to her. Like seriously?
I'm slightly indifferent, but also love Charlotte. Like, even though I know that she's an important character I also feel like she's a background character. I also have no feeling toward Henry, he's kind of just there.
My first impression of Jessamine was that she's a bitch. She's materialistic, spoiled, rude and I wanted to punch her in the face. The way that she was so eager to marry Nate was really creepy. After she killed the goblin on their walk, I knew she would redeem herself and I was really hoping she would embrace that she's a shadowhunter. Luckily she did (sort of) so I'm hoping to see more of that in the next book.
The last 100 pages or so were so surprising. Would not have guessed that Mrs. Dark was a demon. I was not expecting Mortmain to be the Magister! However, I was not surprised about Nate. When the window was open and he said he didn't do it, I thought it was pretty shady. He reminds me a lot of Caleb from Divergent, I hate him.
I still have so many questions though: What is Tessa? Where did the clockwork angel go when it left? How was Mortmain able to disappear? Is he really a mundane?
---
This book gets 4 out of 5 and the ending was really really good!
I will be starting Clockwork Prince today!