Hi friends! So I just finished Pretties by Scott Westerfeld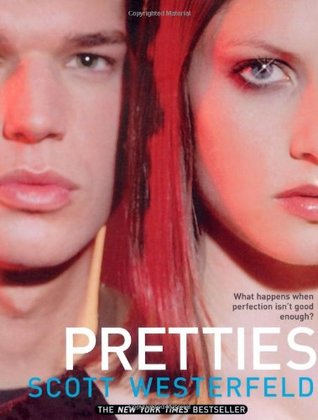 ---
Description:
Gorgeous. Popular. Perfect.
Perfectly wrong.
Tally has finally become pretty. Now her looks are beyond perfect, her clothes are awesome, her boyfriend is totally hot, and she's completely popular. It's everything she's ever wanted.
But beneath all the fun — the nonstop parties, the high-tech luxury, the total freedom — is a nagging sense that something's wrong. Something important. Then a message from Tally's ugly past arrives. Reading it, Tally remembers what's wrong with pretty life, and the fun stops cold.
Now she has to choose between fighting to forget what she knows and fighting for her life — because the authorities don't intend to let anyone with this information survive.
---
~SPOILER ALERT~
---
So the beginning of this book was unpleasant for me much like the beginning of Uglies. I hate everything about New Pretty Town, it reminds me of the Upper East Side in Gossip Girl. The one thing that I hate the most is the way they talk. If you've ever seen the movie Zenon: Girl of the 21st Century then you know what I mean. I hate that movie with a burning passion because I can't stand to listen to her talk for more than three sentences. That's how I felt reading the first few chapters of this book. I can't even tell you how many times I've rolled my eyes.
One thing that was really unexpected and that I was disappointed by was the use of the word 'retarded' more than once. I was very turned off by that. Also not a fan of some of the 'costumes' used in the party scene: the one with the noose and the dictator with the red armband… Yeah not too please about those but back to the story…
I enjoyed the tricks and the fact that there were other Crims interested in being cured. I definitely think that Shay overreacted at the fact that Tally took the pills with Zane instead of her and I'm not quite sure how their relationship will progress after the way that the story ended.
As most of you know, I am not a fan of love triangles and dealing with not one but two was a little over the top. I don't think that David was the first person that Tally fell in love with, he was just the first person that she kissed. A kiss does not automatically mean love. It just felt like in Uglies, they only had two real conversations (maybe three) before they became a couple. Then, when Tally and Zane became a couple, it was only because they took the pills together and they wanted to get rid of the lesions. Other than that, they knew nothing about each other. And Zane definitely said I love you way to soon.
I'm wondering if Tally and Peris will become friends again? Maybe? Possibly? I don't know.
Also, this is kind of random, but were Tally's parents notified when she became pretty? Like, do they know for sure that their daughter is okay?  The parenting situation here is a little weird but maybe I'm the only one who thinks about it lol.
Okay, I'm not a fan of the whole ancient civilization experiment bubble thing. I especially don't like the fact that they assume Tally is a god, because it sounds like the stories we were told in history class about European colonialism. Also, now that Tally knows the truth about the experiment, will it be brought up again now that she's a Special?
While I understand that Maddy hates Tally, I think she needs to remember that 1) The girl is only 16 2) She is not the one who physically killed Az and 3) Maddy left her no instructions with the pills or even told her why there were two. Honestly, Maddy is a kind of a bitch in this one and is no longer one of my favorite characters.
Safe to say that this book left me with more questions than answers. For that, and other reasons, I give it 3/5 stars
---
Next I'll be reading Specials!