After almost a month, I finally finished Every Day by David Levithan.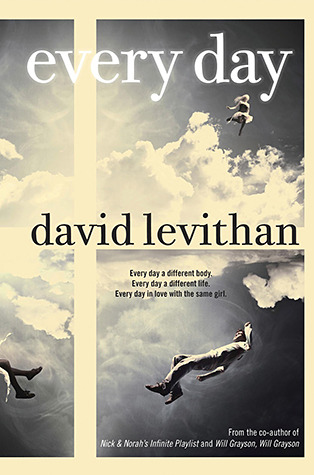 Description:
Every day a different body. Every day a different life. Every day in love with the same girl.
There's never any warning about where it will be or who it will be. A has made peace with that, even established guidelines by which to live: Never get too attached. Avoid being noticed. Do not interfere.
It's all fine until the morning that A wakes up in the body of Justin and meets Justin's girlfriend, Rhiannon. From that moment, the rules by which A has been living no longer apply. Because finally A has found someone he wants to be with—day in, day out, day after day.
---
This was one of the novels assigned for my YA class and I absolutely loved it.
---
~SPOILER ALERT~
---
Okay, I was sucked into this book from the very first page. I love the way that so many characters are incorporated into the story but I have a lot of questions. You know I hate insta love, and I feel like that's what happened with A and Rhiannon. Also, A has been waking up in a different body every day and has come close to falling in love but what is it about Rhiannon that makes them have to be with her? What makes it different? I guess that I'm just supposed to believe that it's true love and all but I don't. Also there was never an explanation for why A switched bodies and what about the body that they were born in? What about parents? I need answers!
*using they, them, their pronouns because we don't actually know how A identifies*
I also didn't like how A was so obsessed with Rhiannon that they messed up other people's lives to see her. Like skipping two tests in one day, or leaving Nathan on the side of the road. This goes back to the whole "why Rhiannon" question too.
I also don't get why Rhiannon didn't just break up with Justin when she admitted that there was nothing there. Why? Just why? I don't get it and it's so frustrating to see that happen so often.
I did like when A was in the twins bodies back to back, that was kinda cool because they got to see what happened afterward. It was also a really good move to have them in Rhiannon's body for a day even though it felt awkward to read because A talked about it in such an awkward way.
One of the things that I really love about A is that they do not discriminate and they are so open minded in terms of sexuality and gender expression. On the other hand, Rhiannon's judgement made me dislike her a lot. Another reason that I didn't like her was that despite the fact that she refused to break up with Justin she still planned a weekend getaway with A and they were going to sleep together. I feel like she isn't supposed to be a bad person but little things like that really made me hate her.
Overall, it was a wonderful read. I mean, you really can't get bored when your protaganist is a different person every day. There is a companion novel called Another Day told from the view of Rhiannon that I want to read. AND according to Goodreads, there will be a conclusion for A. I have no idea when the expected release date is though so I'm kind of dying because there is a bit of a cliff hanger at the end. *sigh* I guess we'll find out eventually.
I gave this book 4/5 stars but I really hate the romance aspect of it
---
Next I will be reading Aristotle and Dante Discover the Secrets of the Universe by Benjamin Alire Saenz