Helloooooo! It took me a month to finish this book (stupid exams and stuff) but it's finally over. So, for my YA Novel class, we were required to pick a book similar to the one that we are writing. Mine is about two best friends and one of them goes missing (gasp). My friend Bria, then recommended that I read this book and luckily it was already on my TBR for 2016!
So I've just finished reading Since You've Been Gone by Morgan Matson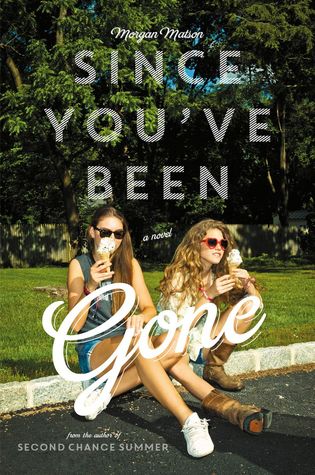 ---
Description:
It was Sloane who yanked Emily out of her shell and made life 100% interesting. But right before what should have been the most epic summer, Sloane just…disappears. All she leaves behind is a to-do list.
On it, thirteen Sloane-inspired tasks that Emily would normally never try. But what if they could bring her best friend back?
Apple picking at night? Okay, easy enough.
Dance until dawn? Sure. Why not?
Kiss a stranger? Um…
Emily now has this unexpected summer, and the help of Frank Porter (totally unexpected), to check things off Sloane's list. Who knows what she'll find?
Go skinny-dipping? Wait…what?
---
So I am definitely a Morgan Matson fan now in case anyone was wondering.
This will be a super short review because I don't want to include spoilers (surprising I know).
Anyway, so the whole time that I was reading this everything seemed pretty predictable, but not in a bad way. Everything EXCEPT why Sloane disappeared and why she wasn't answering Emily's calls. It didn't make sense but then of course once you get to the end everything makes sense again.
Other than the predictability, it was a pretty good read, always interesting so I never fell asleep. And if you've read Amy & Roger's Epic Detour, some of the characters are in this story too!
I do really love the character in this story but out of all of them I probably dislike Emily the most. As you probably know, I have an issue with weak characters. There was really great character development though so it wasn't all bad.
---
Overall, I would give it 3/5 stars.  Next I will finally finish The Great Gatsby!