I am so glad that I finally made it to the end and I have to say that I am definitely satisfied!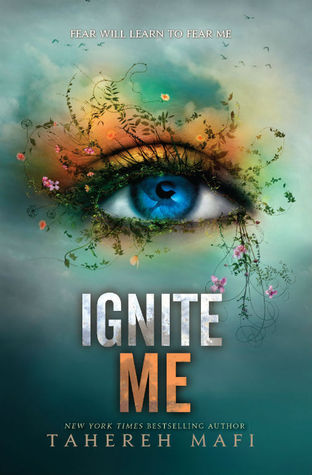 ---
Description:
The heart-stopping conclusion to the New York Times bestselling Shatter Me series, which Ransom Riggs, bestselling author of Miss Peregrine's Home for Peculiar Children, called "a thrilling, high-stakes saga of self-discovery and forbidden love."
With Omega Point destroyed, Juliette doesn't know if the rebels, her friends, or even Adam are alive. But that won't keep her from trying to take down The Reestablishment once and for all. Now she must rely on Warner, the handsome commander of Sector 45. The one person she never thought she could trust. The same person who saved her life. He promises to help Juliette master her powers and save their dying world . . . but that's not all he wants with her.
The Shatter Me series is perfect for fans who crave action-packed young adult novels with tantalizing romance like Divergent by Veronica Roth, The Hunger Games by Suzanne Collins, and Legend by Marie Lu. Tahereh Mafi has created a captivating and original story that combines the best of dystopian and paranormal, and was praised by Publishers Weekly as "a gripping read from an author who's not afraid to take risks." Now this final book brings the series to a shocking and satisfying end.
---

You already know that there are spoilers! (there is also some foul language)
---
Juliette waking up reminded me a lot of Katniss after the first games at the start of Catching Fire. She's disoriented, she's having nightmares and she is pretty much a hot mess. She starts freaking out on Warner for every little thing as if he didn't just save her life. Also,let's not forget that she almost slept with him in Unravel Me, but I'll get to the rest of their relationship a little later.
Adam. I hate him. Every nice thing that I said about him in my Shatter Me review, I take back. He is incredibly selfish and makes everything about him without taking anyone else into consideration. Yes, he is trying to do the right thing for James but that still does not explain his behavior. He says to Juliette that she didn't have to watch her family die. He's right, she didn't…because her parents shipped her off and didn't give a damn what happened to her. He's the kind of person who doesn't understand that people have different realities. He could easily explain his fears about caring for his brother to her in a way that doesn't have to be condescending and "oh woe is me." He also makes up some bullshit about how all he wanted was her. LIE! In Fracture Me, he says he doesn't know if she's worth it anymore! Then he denies that they broke up. WHAT?! How pathetic are you? I don't know how many of you are fans of Grey's, Scandal, or HTGAWM but in the words of Shonda Rhimes, Adam is being a bitch baby. There's no other way to describe him. Oh, and let's not forget about the part where he tells her to drop dead. She should've kicked his ass right then and there, that was way over the top. Finally in chapter 62 he gets his shit together, but the amount of times that I screamed "Shut up" in my head while reading this book was excessive.
I absolutely love Kenji and Juliette's friendship, I think it is the cutest thing ever. There's really not anything else to say, it's just great. If Kenji had died then I would have been extremely upset. He almost dies like three times.
I did not think that this would happen but… #TEAMWARNER ❤ I love them together! I started thinking that I would switch when I read Destroy Me but I wasn't sure. Oh and I love that the bird is a symbol of him. I figured that it was important that she kept mentioning the "golden crown atop its head" but I didn't put it together. Great symbolism there, I like it. I am beyond satisfied that they end up together to take over the world.
My favorite part is when Juliette turns to the soldiers and says "Fight me, I dare you" Like, yes! That is the Juliette that I have been waiting for throughout this whole series. It took you long enough to get here, but welcome!
---
This book gets 4.5/5 stars! I loved it 🙂