Hi there, I finished reading Fracture Me by Tahereh Mafi last night (almost done with the series!)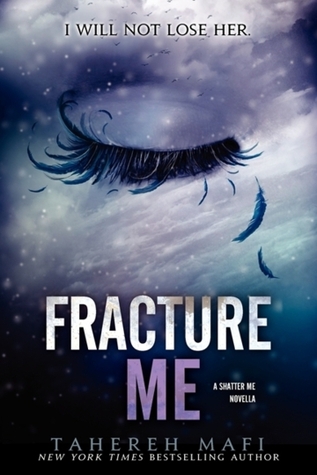 ---
Description:
In this electrifying sixty-page companion novella to the New York Times bestselling Shatter Me series, discover the fate of the Omega Point rebels as they go up against The Reestablishment. Set during and soon after the final moments of Unravel Me,Fracture Me is told from Adam's perspective.
As Omega Point prepares to launch an all-out assault on The Reestablishment soldiers stationed in Sector 45, Adam's focus couldn't be further from the upcoming battle. He's reeling from his breakup with Juliette, scared for his best friend's life, and as concerned as ever for his brother James's safety. And just as Adam begins to wonder if this life is really for him, the alarms sound. It's time for war.
On the battlefield, it seems like the odds are in their favor—but taking down Warner, Adam's newly discovered half brother, won't be that easy. The Reestablishment can't tolerate a rebellion, and they'll do anything to crush the resistance . . . including killing everyone Adam has ever cared about.
Fracture Me sets the stage for Ignite Me, the explosive finale in Tahereh Mafi's epic dystopian series. It's a novella not to be missed by fans who crave action-packed stories with tantalizing romance like Divergent by Veronica Roth, The Hunger Games by Suzanne Collins, and Legend by Marie Lu.
---
So I did not know that this was going to be from Adam's point of view. To be honest, I was a little disappointed. I liked reading from Warner's POV in Destroy Me so I thought this one would be too. But then it actually makes sense that it's Adam because Unravel Me ends with Warner and Juliette in the same place.
By the time I finished the first few chapter I had decided that I did not like Adam anymore. He has no faith in Juliette. He calls her a "weak link"and a "handicap" to Omega Point's mission. I mean, the girl is already insecure she shouldn't be with someone who thinks she doesn't have any potential. At least Warner believes in her. Can't believe I'm saying this but for the time being I am no longer #TeamAdam. I will not declare another team until I have finished the series though, so stay tuned for that.
I will credit Adam with being a good big brother. As an older sibling there is no doubt that I would kill for my little brothers (I have four of them). He is definitely a good provider for James and I know what that's like.  Also, I understand that he doesn't want to leave his brother but if you're so called "in love" with this girl, why didn't you think about saving her? Kenji did. Now, I'm not saying that he should've chosen Juliette over James but I think that if it were real "love" then he'd find a way to make both work. Right?
I kinda hate the way the Tahereh Mafi ends these books. They always sneak up on me and I flip through the pages a few more times just to make sure that it's really the end. I am excited to start the next book though because I know that Juliette isn't dead so Warner must have a plan. I guess I'll find out soon.
---
I think I'd give this 3/5 stars just because it made me realize that I don't like Adam. Next I'll be finishing the series with Ignite Me!